May 19-20, 9am – 5pm
This is a 2 day workshop with yamadori material of which was hand picked by Bjorn. We are limiting the class size to 8 to allow each person to have as much time with Bjorn as possible.  Lunch is included both days to keep participants onsite to spend as much time with Bjorn.
Don't miss out on this unique workshop where you will spend the entire weekend working on your yamadori tree with Bjorn. Deadwood, repotting (some of the trees are ready others not), wiring and styling will be the focus of the weekend and you will go home with a specimen quality American yamadori.  Trees include Rocky Mountain Juniper, Alligator Juniper, Blue Spruce and Sierra Juniper.
Not only will you work on your own tree but you can listen and observe while Bjorn is working on the other material giving you the chance to see 8 trees transform.
This workshop requires a 50% deposit at time of registration to secure your tree and seat.  The remaining balance is required to be paid at least 4 weeks in advance of the workshop date.
Please note cost of deposit and class may vary due to different prices of each yamadori.
Please review our updated workshop terms and conditions
The following videos are of the trees that are available for the Bjorn workshop.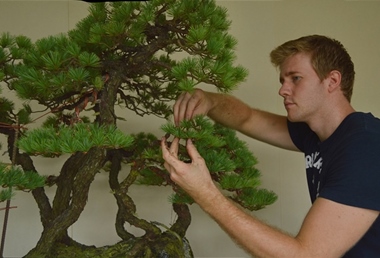 Bjorn Bjorholm
Guest Bonsai Artist / Teacher
Bjorn Bjorholm, owner of Bjorvala Bonsai Studio, is a professional bonsai artist based out of Knoxville, TN. After graduating from the University of Tennessee, Bjorn became an apprentice at Fujikawa Kouka-en nursery in Osaka, Japan where he has spent several years working under Master Keiichi Fujikawa. During his apprenticeship, Bjorn's work was accepted into the Kokufu-ten, Taikan-ten, and Sakufu-ten exhibitions. Bjorn currently divides his time teaching bonsai art in the United States and furthering his studies and business in Japan. Bjorn offers excellent advice in a non-judgmental manner and adapts his teaching behavior based on the skill level of the student. He is an exceptional teacher whose focus is on educating bonsai enthusiasts.